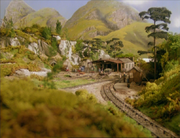 Arlesdale is the valley which the River Arle runs through to the sea. It is also the home of the Arlesdale Railway, running from Arlesburgh at the river's mouth to the village at Arlesdale.
There were two stations at Arlesdale. One of them was located at the northern end of town and was serviced by the Mid Sodor Railway, until the line closed down in 1947. This station was where the main engine and carriage sheds were located. The present-day station is established at the southern end of town at the edge of the road heading for Ulfstead. This station is serviced by the Arlesdale Railway and is called Arlesdale Road.
Community content is available under
CC-BY-SA
unless otherwise noted.