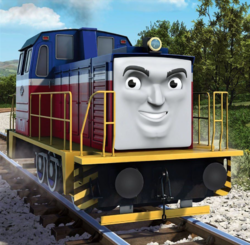 Ivan
Built: Sometime after 1960
Builder: Murom Locomotive Plant
Configuration: 0-6-0
Ivan is a Russian diesel shunter.
Persona
Ivan of Russia may look mean, but he is one of the most charismatic characters to be found on the railway. He is a real comedian, who will put a smile on everyone's face.
Basis
Ivan is based on a TGM23 class diesel shunter.
Livery
Ivan is painted red and blue with white lining. His running board is painted yellow, and he carries his name on the sides of his cab in white lettering. His wheels are painted black with white rims and blue counterweights.
Appearances
Memories (mentioned; not named; seen in flashback)
Trivia
The colours of the Russian flag, of which Ivan is painted in, are stacked differently as to how they look on the actual flag; the white and blue are swapped around. This was most likely done for aesthetic reasons.
Gallery