This article is about Ruby Zoisite. You may be looking for another Ruby.
Ruby Zoisite
Gemstone: Ruby Zoisite
Configuration: 2-6-2ST
Ruby Zoisite is a gem engine from the Keystone Railway
Bio
Ruby Zoisite was only seen pulling a train in A Keystone Trip.
Persona
Not much is known about Ruby Zoisite.
Basis
Ruby Zoisite is a freelance design.
Livery
Ruby Zoisite is painted red with green lining. She has a green bufferbeam/footplate and her name on her tank in green.
Appearances
Total Appearances
RUBY ZOISITE - TOTAL APPEARANCES
Crystal Island Adventures - Speaking Roles:

0

- Non Speaking Roles:

0

- Cameos:

1

- Mentions:

0

- Possible Appearances:

0
Totals
Speaking Roles: 0
Non Speaking Roles: 0
Cameos: 1
Mentions: 0
Gemstone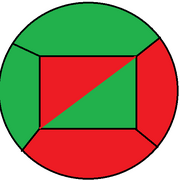 Ruby Zoisite has a red and green circular gem with a square facet. It is located on her coal bunker.
Gemology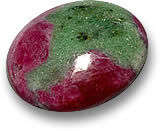 Ruby-zoisite is the natural combination of both ruby and zoisite crystals in a single specimen.
It is also known as "anyolite"

This name is derived from the Masai word for green (anyoli)

Other name variations include "ruby-in-zoisite" and "Tanganyika artstone".
Ruby-zoisite was discovered at the Longido mining district in northeast Tanzania by Tom Blevins, an English prospector.

To this day, Tanzania remains the only source for ruby-zoisite.

Depending on its primary constituents, ruby-in-zoisite can vary tremendously in color, pattern and hardness. Zoisite provides an earthy green color, while ruby inclusions give it pink and red highlights.